Ahmad Faraz (Urdu: احمد فراز, born Syed Ahmad Shah Urdu: سید احمد شاہ; on January 12, 1931 in Kohat,) was a Pakistani Urdu poet. He was considered one of the great modern Urdu poets of the last century. 'Faraz' is his pseudonym (takhalus) in Urdu. Faraz died in Islamabad on August 25, 2008.
Faraz has been compared with Faiz Ahmad Faiz, holds a unique position as one of the best poets of current times, with a fine but simple style of writing. Even common people can easily understand his poetry. Ethnically a Hindkowan, Ahmed Faraz studied Persian and Urdu at the Peshawar University. He later became lecturer at the Peshawar University. He was awarded Hilal-e-Imtiaz, Sitara-i-Imtiaz and after his death Hilal-e-Pakistan by the government.
Romantic Urdu Poetry By Ahmed Faraz.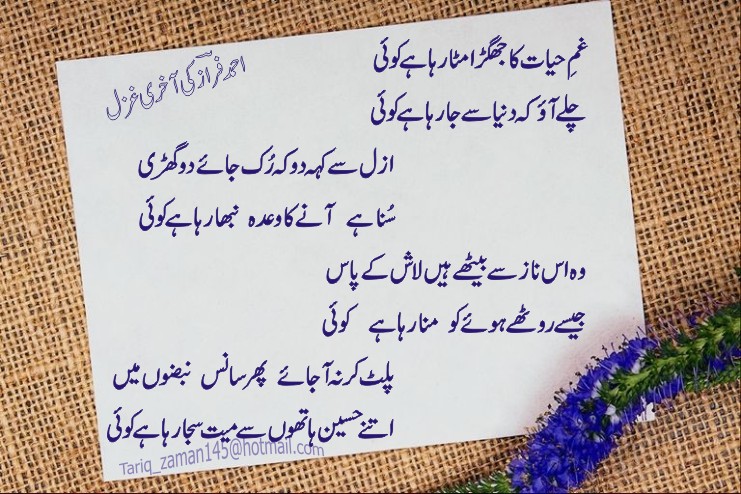 Mere mayar k liye bus itna hi kafii hy "FARAZ"
Mie uska hargis nhi hota jo hr kisi ka hota h
Kia Gin Gin Ker Mango Us Se Jo Behisab Deta Hai…..
Haseen Yadoon K Kuch MauSaM Ussey Arsaal Krney Hein FARAZ!
SuNa Hai Shub Ko Tanhai Ussey Soney Nahi Deti.~!
Hum Se Bichar K Us Ka Takbbur Bikhar Gaya Faraz
Har Ek Se Mil Raha Hy Barii Aajzii K Saath …
Waqt-e-Qudrat Le Aaya Hy Aaj Humain Us Jaga Pe Faraz
Chal Diye Usi Mitti Main Jis Ki Hum Amanat Thay …
Bin Maange Hi Mil Jati Hyn Taabeerai'n Kisi Ko Faraz
Koi Khaali Haath Reh Jata Hy Hazaro'n Duao'n K Baad
Dil K Rishto'n Ki Nazaka wo Kia Janey 'Faraz'
Naram Lafzo'n Se Bhi Lag Jati Hyn Chotai'n Aksar
Us Ne Mujhe Chhor Dia To Kia Hua Faraz…
Meine B To Chora Tha Sara Zamana Us K Liye…
Zinda tha to kisi ne na pucha haalat-e-jigar,
Ab mar gaye hain to mitti main dabanay aagaye,
Chor k dunya ko madhosh huye thy hum,
Woh na janay kya soch kar humko jaganay aagaye,
Na janay kis se pucha hai wafa na pata mera,
Meri qabar pe bhi humko jaganay aagaye,
Hum to andhere main sonay k aadi they,
Or woh bewafa meri qabar per diye jalanay aagaye.
Zinda tha to ek nazar na dekha pyar se Faraz!
Mar gaye hain to ab qabar pe aansu
Very Last Ghazal Of Ahmed Faraz
Gham-E-Hayaat Ka Jhagra Mita Raha Hai Koi
Chale Aoo Duniya Se Ja Raha Hai Koi
Azal Se Keh Do Ruk Jayee Do Ghari
Suna Hai Aane Ka Wada Nibha Raha Hai Koi
Wo Is Naaz Se Bethe Hain Laash K Pass
Jese Ruthay Hoe Ko Mana Raha Hai Koi
Palat Kar Na Aa Jayen Phir Saans
Itnay Haseen Hathon Se Mayyat Saja Raha Hai Koi
Wo Dhoondte Rahay Hame Idhar Udhar Shayad Unhe Hamari Taalash thi,
Par Afsoos Jis Qabar ParThay Qadam Unk Usi Mein Humari Laash Thi
main simtnay k liye hr bar tum se milta hon fraz ….
tum se milta hon to kuch or bikhar jata hon
'Taash Ke Paton ki Manind hai Zindage Meri..
'Jis Kisi ne bhi Khela Taqseem Kar Diya Mujhey..!
=
Funny
Urdu, Pushto Or Chinese Sher K Baad Ab Ek Hindi Sher
Chintit Hun Ma K Is Prem Ma Kitni Durghatna Hy FARAZ.
Is Chinta Ki Vivastha Liay Ma Suargvasi Ho Chala
Barae Meherbani Dawaen Bachon Ki Phonch Se Door Rakhen
Ziyada Tabiyat Kharab Ho To Doctor Se Rujuh Karen
=
Uss Se Milte Hee Yeh Ehsas Hua Tha Mujhko
FARAZ
Ye Wohi Shaks Hai Jo Lambi Judai De Ga